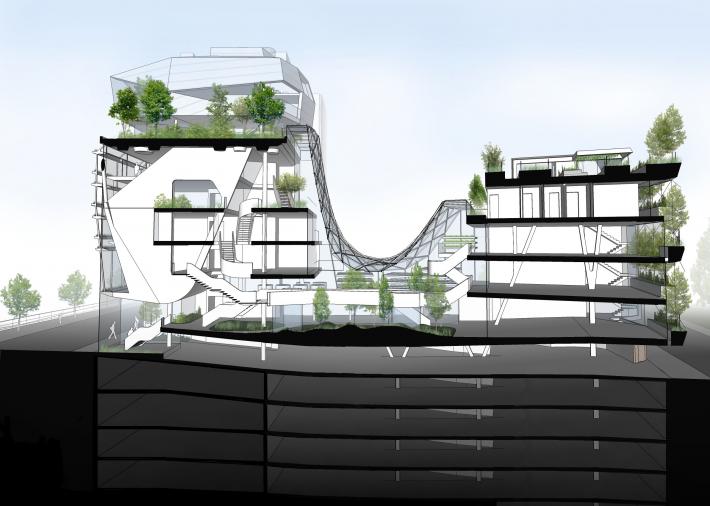 MARC35 - Quai Marcellis - Liège
MARC35 has been under study since 2013 and has been built on the basis of a reflection with psychologists, administrators, engineers and ergonomists. This reflection has led to the definition of a program for the construction of a structure that promotes the creativity of young talents and the development of innovative companies. The architectural response to the different demanded functions is simple: two buildings linked by a glass roof; facing Quai Marcellis, closed spaces (lecture hall, restaurant, accommodation, project rooms and meeting rooms) topped by a module, the "satellite" (three-storey apartment with a view on the Meuse as wished by the owner); rue Léon Frédéricq, large free multifunctional platforms.
The complex is located on the most cherished quay of the Meuse and was subjected to detailed studies aiming at the maximal urban and contextual integration. Besides fitting within the very dense plots of land of the neighbourhood according to a logic of respect of shared spaces and of optimization of their qualities, it unifies the different sizes of the buildings located along the quay: the height of the road facing facade thus corresponds to the height of the adjoining old houses whereas the "satellite" that covers it is adapted to the size of the nearby apartment blocks (mainly R+8). The layout of the volumes and their total transparency (ground floor and +1) between rue Léon Frédéricq and quai Marcellis enable furthermore to create interactions games with the outside and to integrate the activity of MARC35 to urban life.
Due to the very nature of the program that is based on the promotion of entrepreneurial innovation, the architecture expresses a contemporary sensitivity and an expertise that immediately understands the need of energy and environmental performances. It is the desire of the client: from the construction phases to the daily exploitation, the building complies with the most specialized requirements of sustainable development and one of the priority objectives was to end up with a "positive energy" building (certified "BREEAM excellent"). Beyond the usual provisions in this field (insulation, heating, geothermics…), two lines of research were pursued: natural ventilation through the glass roof; installation of an ecosystem on the facades and inside the glass roof. This ecosystem is similar to those of the Meuse valley, creates an enjoyable setting and contributes very actively to the thermal regulation.
The reflection on the "New Ways of Working" has opened up avenues that touch on the modularity of the spaces, their functions and their sensitivity. The creation of a complex of urban agriculture probably best demonstrates these reflections: it actually participates in revealing the passing of time – often a key element in the achievement dynamic of an entrepreneurial project – organically and without the pressure of horological systems.
In addition to this, the reduced floor area and the calculation of sizes require the need to rationalize the available space while satisfying the desire of the client to create spaces that offer optimal living standards.